The Top 5 Reach the Final!
From nearly 90 players to just the final 5 – the sixth and final round of the 2nd Istanbul: Digital Edition Online Tournament is upon us!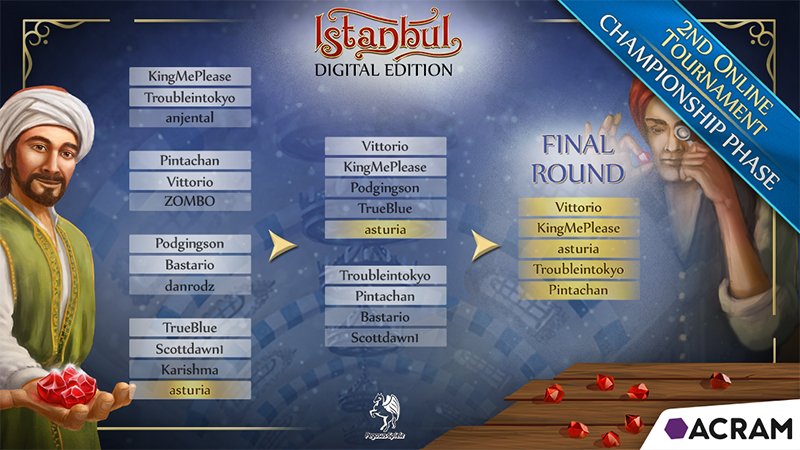 This is a 3rd such event that we've organized – the previous two being the Eight-Minute Emprie Online Tournament and the 1st Istanbul one, and by no means will it be the last! While there are some minor differences between the organization of these events, the broad strokes remain the same: they're always free of charge, all you need is a copy of the game on any device, all are welcome, and there are prizes to be won – codes for our digital board games and copies of the tabletop games provided by the original board game's publisher – this time it's Pegasus Spiele – the original publisher of Istanbul.
The organization of the current event is not unline that of the previous ones. It's divided into two stages, or phases:
The 1st Phase is a Swiss-style tournament, where every player plays 3 matches and is assigned score based on their results – 4 points for the 1st place, 3 for the 2nd and so on. After the 3rd and final game of the first phase, the top scoring players progress to the second, championship phase.

The 2nd Phase, where, another 3 rounds are played, but with progressively less competitors, as the bottom two players from each table get eliminated in this phase. In addition, one player who scored nothing but victories in the 1st phase and was the only one with 12 points is shielded from elimination during the championship phase.
And thus, after 5 rounds of tooth and nail competition we have arrived to the Final Round, where top 5 players this year will be fighting for the podium, and one will become the new Greatest Merchant in Istanbul.
If this at all sparks your interest – be on the lookout! The next event will be in, roughly, half a year, after the release of Concordia: Digital Edition and will involve, naturally, Concordia itself!
If you don't want to miss it, check out the game's page and join our Facebook group where you can help us create the game that is perfect for you!